Located in the heart of Old Town Toronto, our stunning and unique spaces are perfect for hosting your next event.
Host your next event with us
Working with our professional event team, you'll have the opportunity to plan every detail of your next event or celebration. Detailed below, these diverse spaces range from dining and meeting/conference rooms to state-of-the-art commercial kitchens, and reception spaces to presentation/educational theatres, all offering in-house food & beverage service provided by our hospitality & culinary students and staff.
These elegant and unique spaces can accommodate a diverse range of events, and are complete with integrated audio/visual equipment, and modern, professional appliances. Over 200 events such as exclusive dinners, private lunches, corporate meetings, team-building activities, kitchen facility rentals, family celebrations, weddings, product launches, and charity galas are hosted by our staff and students annually.
Contact us
Get more venue information with our request form or contact our Enterprise & Event Team directly at 416-415-2260.
Centre for Hospitality & Culinary Arts
300 Adelaide Street East
Toronto ON M5A 1N1
View on Google Maps
Private Dining Room
Capacity: 14 seated
Common uses: Full-service formal dining; Intimate celebrations; Business meetings
Features: Private dining/meeting space; 60" flat screen HDTV; LED lighting; Same-floor accessible washrooms; Child changing tables in washrooms
Event Space
Capacity: 30 boardroom setup // 50 classroom with tables // 60 theatre seating // 90 reception
Common uses: Cocktail receptions; Board meetings; Wedding ceremonies; Corporate retreats; Conference presentations
Features: Flexible event space; Tables & chairs available in a variety of setups; Wireless A/V equipment; HD screens; Bar area;
Food & Beverage Tasting Theatre
Capacity: 48 seated; 2 x 24 seated with skywall down
Common uses: Food & Beverage training; Structured beverage research/testing; Guided masterclasses; Team-building activities; Product launches
Features: Tiered seating; Tasting stations with individual water tap & sink; Up to 12 tasting glasses per seat; Wireless A/V with HD screens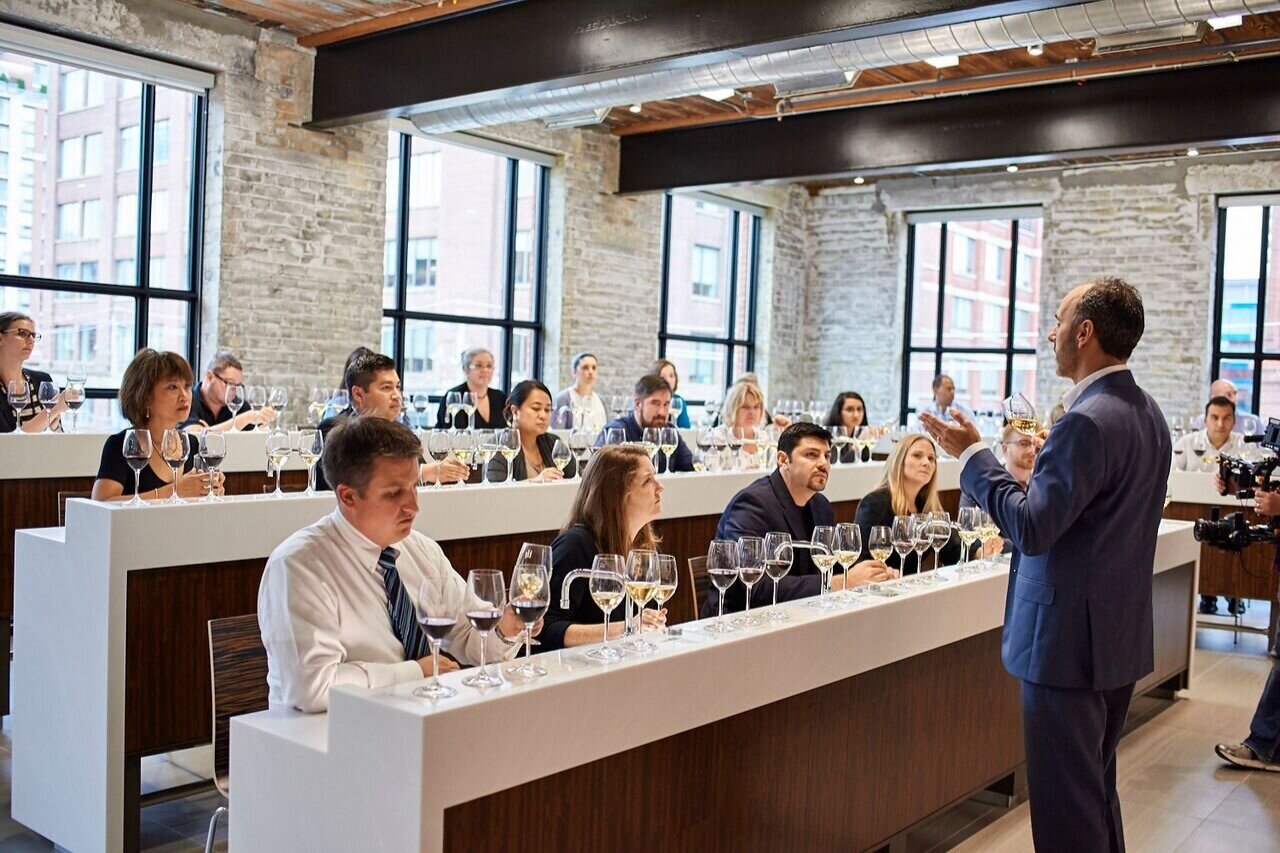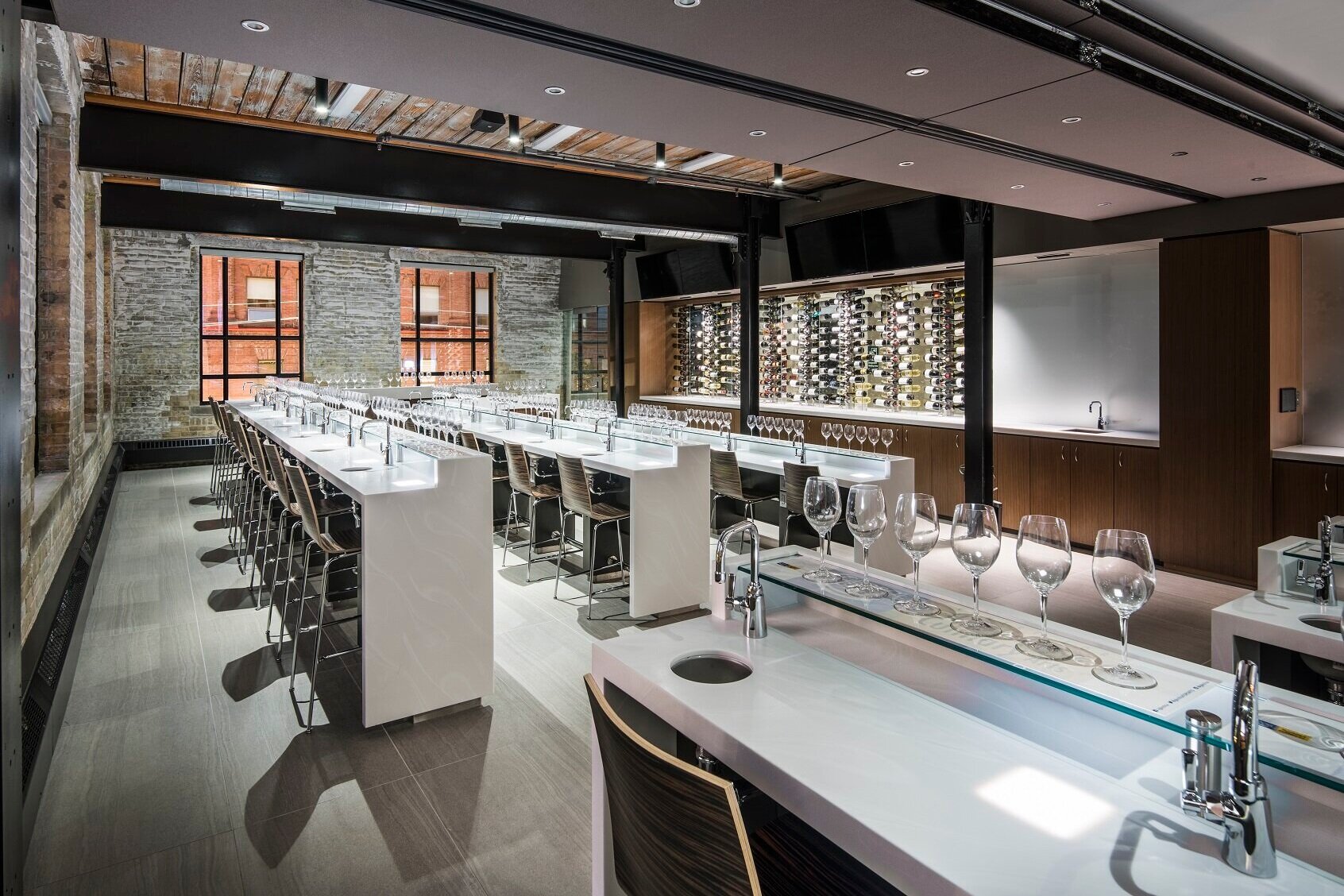 Presentation/Demonstration Theatre
Capacity: 108 auditorium seating
Common uses: Culinary masterclasses/demonstrations; Lectures/presentations
Features: Tiered auditorium seating; Cushioned chairs with foldaway writing tablets; Wireless A/V equipment; Fully equipped commercial kitchen; HD cameras in kitchen area; Chefs' Table private dining for up to 12 guests.
Main Dining Room
Capacity: 64 seated // 90 reception
Common uses: Full-service formal dining; Cocktail receptions; Corporate breakfasts; Banquet lunches and dinners
Features: Open kitchen; Full service bar; Fully furnished with tables and chairs; wireless A/V equipment; Digital projector screen; HD television; Wheelchair accessible washrooms; Child changing tables in washroom
Culinary Kitchens
Capacity: 24 per kitchen lab
Common uses: Culinary training classes; Team-building events; Commercial food production
Features: Commercial grade kitchen equipment; HD cameras for instructor demonstrations
Atrium Event Space
Capacity: 160 banquet seating // 300 reception
Common uses: Cocktail receptions; Food & Beverage market events; Private banquets; Fundraisers; Trade shows
Features: Open floor plan event space; Wireless A/V